First month of subscriptions - Our faves!
Sam and Peter's faves, why, recipes, drink ideas, cool stories, etc.
It's been fun to reminisce on the distant past, years ago when we were ordering coffee subscriptions to the house we shared in Ann Arbor. We were trying to experience the best coffees we could find, and here we are starting subscriptions ourselves! Time flies, huh?
We absolutely believe that small business is better off when it's at the center of a larger community. We have big dreams for espy, and every subscriber that joins our community paves the way for us to keep expanding our vision. So if you subscribed, big thanks! You rock. If you're reading this, and you haven't subscribed yet, thanks for subscribing to this blog. These posts are long, and we're thankful for your attention span :)
On a real business note, our first 12 subscribers just secured 25% of our monthly revenue. If we made it to 50 subscribers, 100% of our current revenue would be covered! For us, thats a huge security net. It gives us time to plan ahead without fear or uncertainty!
Hopefully, your subscription has arrived as you read this. We snuck in a little surprise - did you see it? For those of you that subscribed, let us know what you think! Can you guess what it is? We'd love to see some facebook and instagram guesses, take a pic and tag us!
Each month we are going to dig into the "monthly fave". We both are picking a coffee and writing about why we picked it, what is special about it, how we like to drink it. We'll offer some fun brewing recipes, drink ideas, and maybe some exclusive subscriber only content? Who knows? We're figuring it out lol! So, here we go!
Peter's Fave
Villa Clabelina from Colombia
This coffee comes to us via our friend Pat at Nordic Approach. It was part of a batch of samples sent to us when we started work on M*ck*ngb*rd. Around this time, we were in the process of trying to build a company bigger than ourselves, one focused on larger environmental and economic sustainability. We felt the need to have a vision for the kind of coffee that would best carry our message. We were looking for vibrant coffees with compelling stories. Sam wrote all about this coffee in a previous post, so definitely go check that out if you're interested.
Villa Clabelina was one of three coffees from Ciudad Bolivar that we ended up buying, the others being from La Claudina. I love all of these coffees, but I also love how they are related to each other. Juan Saldarriaga, owner of La Claudina, has shared his knowledge of coffee processing with the Prieto Soto brothers (owners of Villa Clabelina). They have worked together to build updated slow-drying rooms and now have ways of controlling the fermentation process of the coffee.
The main objective of the Villa Clabelina farm is sustainability. To them, this means investing in new processing ideas to improve quality and guarantee economic stability. It also means dedicating the vast majority of their land to preserving native species of plants and animals. With expert care and knowledge of the land, they produce coffee from trees that are 50+ years old, which is at least double the normal age of high volume coffee production trees. I love this! I think their approach is balanced and thoughtful, and I'm so glad we're able to share their coffee.
Sadly, we have only a few batches left of this green. In many ways, this is a big milestone for us - selling out of Villa Clabelina means we get to replace it with our first new coffee! On the other hand, I'm bummed and looking for ways to honor our time with it.
So anyway, it's my pic of the month! I like the recipe Sam included in his post for hot coffee, but to be honest, I usually drink Villa Clabelina iced. Try making an iced pour over with this ratio:
25g coffee, one notch finer than usual

125g ice (in the bottom of the brewing vessel)

250g boiling water
Brew time should be around 3:00, feel free to add more ice to serve.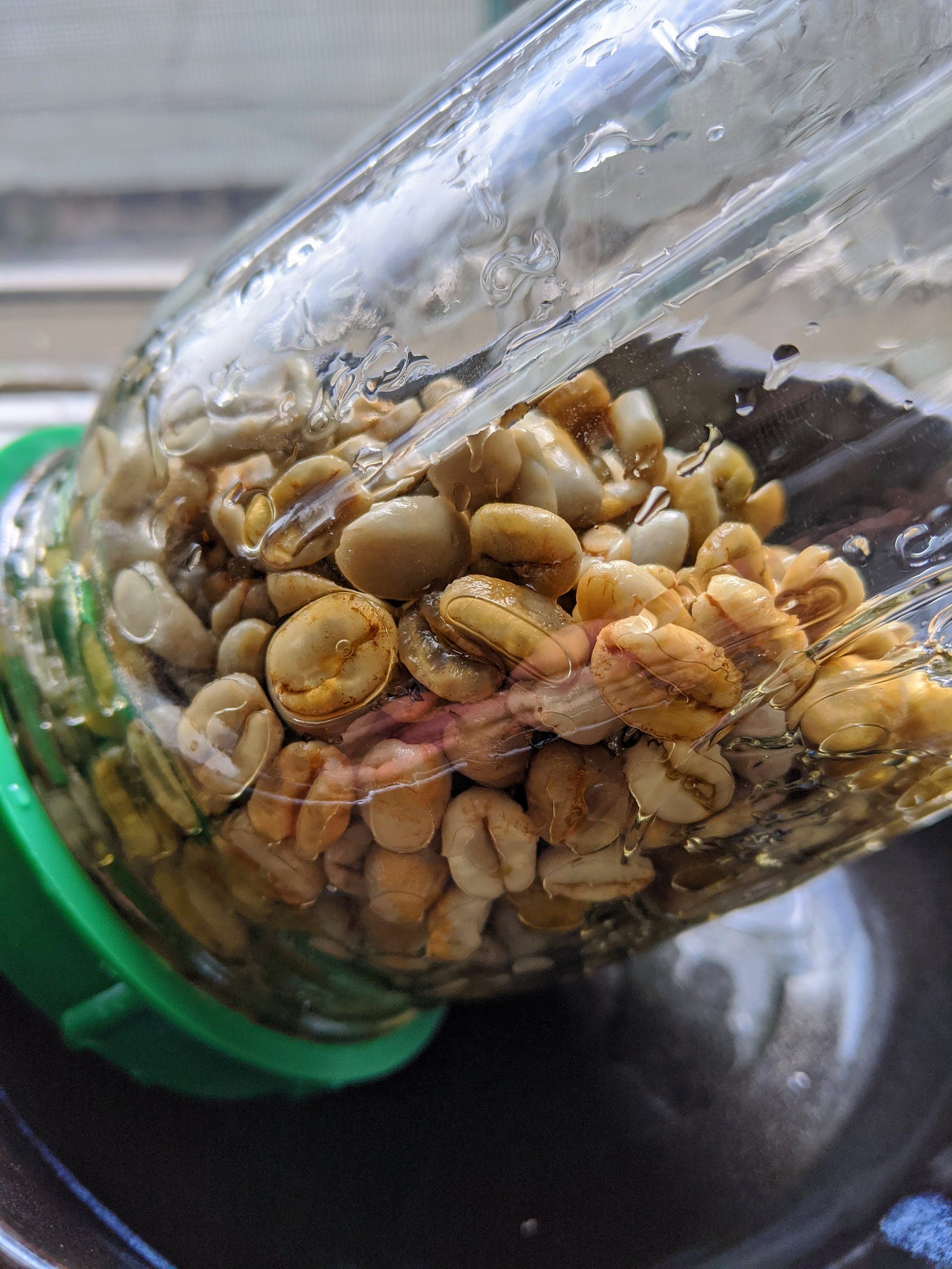 One last fun thing is that I'm attempting to sprout a few Villa Clabelina coffee trees from our remaining green! We'll see how it works, but keep an eye on our insta stories - might be a give-a-way sometime soon??
Sam's Fave
Alfeu from Brazil.
I picked Alfeu because this coffee means so much to me. It's a coffee that redefined my perspective, and vision. It gave me so many new "firsts" in my work as a green coffee buyer, coffee roaster, coffee trainer, coffee marketer, barista, and person.
This is the first coffee I've ever worked with where the coffee producer sought me out. It's the first coffee I sample roasted, purchased, and helped dial in the roasting, specifically for brewing espresso and filter coffee. It's the coffee that helped me qualify for the United States Barista Competition Semi Finals (top 18 in the USA) for the first time. It's the coffee that gave me the confidence to start my own business, and start it again after I lost almost everything from the first one. This coffee has been there with me and for me, even when I've wanted to give up.
As much as I love to speak for this coffee, it speaks completely for itself. It was the first coffee grown in Brazil that I tasted and LOVED on the first sip. This began a huge perspective shift for me, specifically about how I engaged and thought about coffees from Brazil, but also how I thought about coffee in general. I learned to appreciate it even more than I already did.
The timing couldn't have been better for this coffee and me to meet, I was beginning my search for the coffee I wanted to serve for the 2019 Barista Competition Season. This is a highly competitive national and international competition for baristas to prepare the best coffees in the world, in the best ways they can imagine. One aspect of the competition is a focus on technical coffee skills, and another aspect is a sensory accuracy competition where the barista communicates exactly what the coffee will taste like. The judging panel must score them based on how accurate they feel the barista was. It's also a space where people share big coffee ideas.
My big idea for 2019 was a developing one, it became about the experience I was going through at the time. It was a big season of change, I had been working on expanding a few business opportunities for Stovetop Roasters, the company I was working for, and they kept fizzling out. I was looking for what the next big thing would be for us, but every opportunity was missing some important aspect. I eventually was met with the right idea, team, and space, and we embarked on starting what was known as Mockingbird Coffee. We actually announced the company in the competition routine.
Feel free to watch the routine, listen to the story, and see how I prepared Alfeu. I'm working on an at home recipe for the signature drink, (waterfall optional), so stay tuned :)
Click here to watch my United States Barista Competition where I serve Alfeu.
As many of you probably know how the rest of 2019 went, Mockingbird didn't survive. Alfeu was a driving inspiration for me branching out to start my own company, and part of the motivation that helped me and Peter transition to espy. It's been the guiding and centering piece to our story.
Alfeu is a symbol of change, and of redefining what sustainable can look like. It's a reminder that the answer may not look like what you have always expected it to look like, but when you see it, you should lean in and trust it for a while. Alfeu has led us to some unexpected, yet amazing places and we couldn't be thankful enough.
Stay tuned for some drink recipes throughout the month.

<3
Sam + Peter