First and foremost, we want to continue to acknowledge the global movement around all Black lives lost and oppressed due to systemic racism and police brutality. As a small business, it feels gross to be advertising or trying to capitalize right now. We are fortunate to operate at very low costs, and want to give as much as we can to those organizing, and making change in our community.
We thank you all for subscribing to us, as subscriptions are the financial foundation to our vision. With that in mind, we are donating all the profits from subscriptions ($200 this month) to the Detroit Justice Center. If you haven't yet, please take an opportunity to make a donation as well. We will continue to give coffee to organizers who need it, so please send Peter an email (peter@espy.coffee) if you know someone who needs coffee.
From Sam's brewing journal
I just made three baby cups of coffee. 10grams of coffee, 160-170ml of water. This is my morning meditation and coffee tasting for today. I love all three of these coffees. The sneak peek is the newest coffee to my palate, so I'm still figuring out what it tastes like.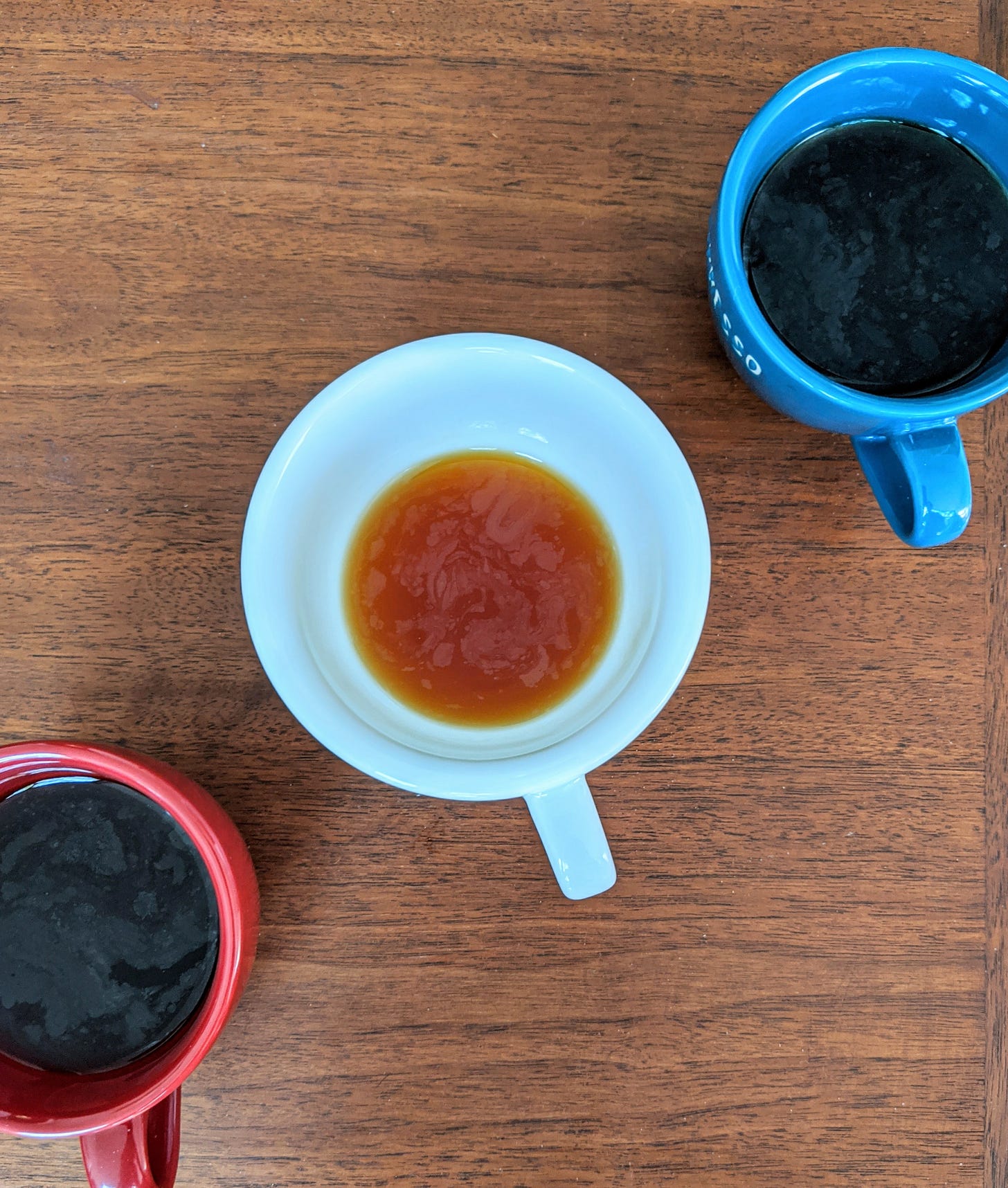 Tasting and coffee info
Sam's Fave - La Claudina
This coffee is a natural processed Castillo/Tabi from Colombia. I wrote down plump, grape, juicy, slightly tannic.
Sneak Peek - keeping it a mystery :)
I wrote down silky, creamy, caramelized, earthy.
Peter's Fave - Nuevo Trujillo
This coffee is a washed Caturra from Peru. I wrote down cocoa, thick, subtle citrus, nougat.
Why these coffees?
We're not going to give away all the answers quite yet, but the Sneak Peek is connected, or directly related to both Sam and Peter's Faves. We want you to taste it, side by side with whatever Fave you subscribed to (or all three if you subscribed to both). Look for flavor connections, study the information about the coffees themselves. We encourage you to ask yourself some questions about how you're enjoying the coffees. How do they sit with you? How did they brew? How do they feel in your mouth? What do they taste like?
What does a washed Caturra from Peru have to do with an experimentally dried natural Castillo/Tabi from Colombia?
How does the Sneak Peek coffee connect both of these other coffees together?
We want your questions, thoughts, and ideas! Since we know why they are connected, we can't taste and ask ourselves these questions the same way you can. But I think there's a lot to learn. In two weeks, we're going to revist this and reveal what all the fuss is about. Get tasting and investigating!!
The Rules
In addition to your coffees, you will find a document in your package.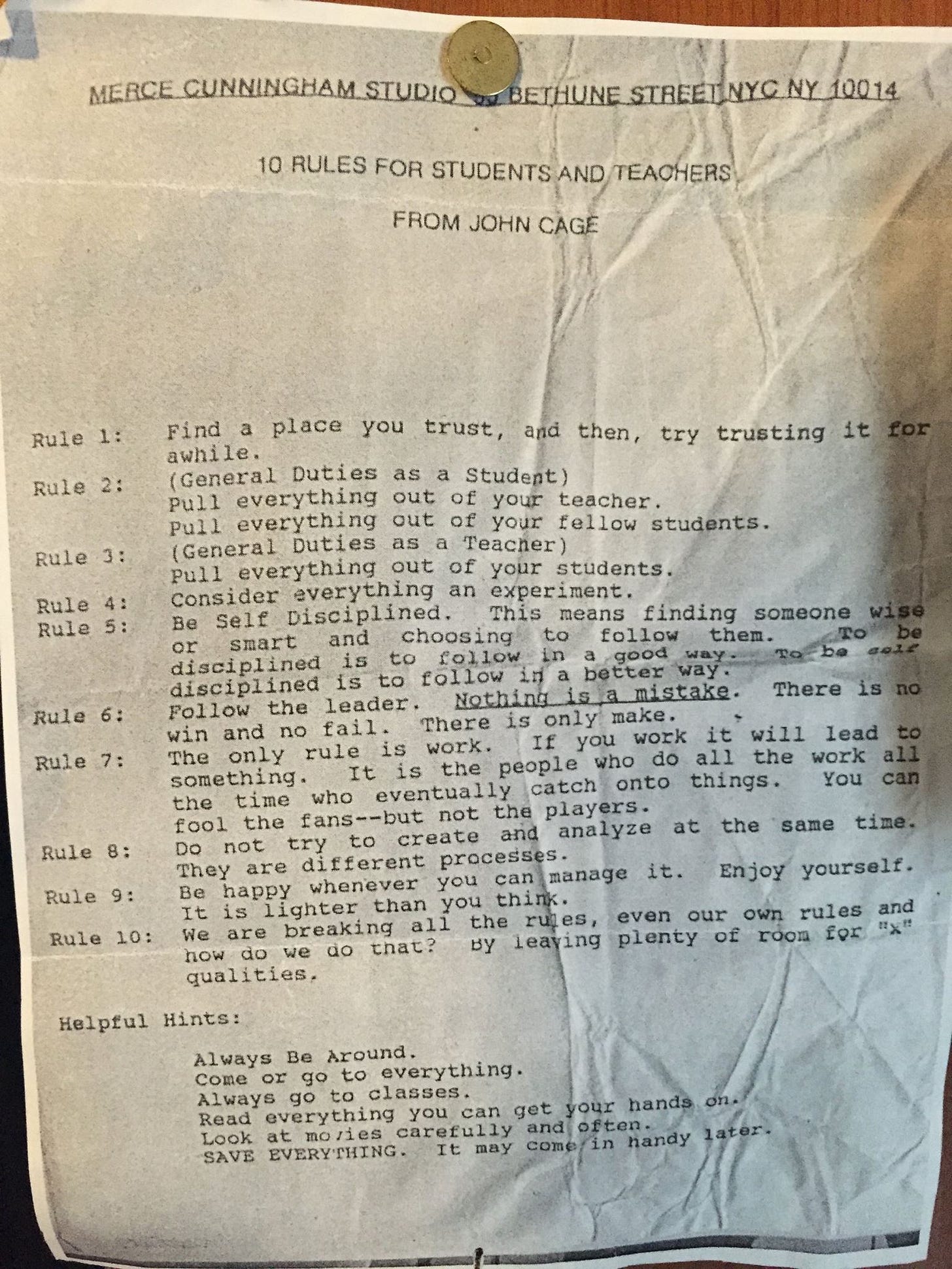 What is it?
This is a set of rules intended for artists, teachers and students, but they also apply to anyone anytime (we're always a student and a teacher). They were written by Sister Corita Kent and her art students at the Immaculate Heart College in 1967.
The 10 Rules were meant to be a guide for growth, prompts for work and experiences, ways to understand and inhabit spaces. The agreement was to make new rules when they felt these had run their course. They never did. Corita Kent borrowed a quote from John Cage for the 10th rule, and ended up forwarding the finished set to him.
Cage later adapted them - he and his partner Merce Cunningham lived and breathed them teaching in NYC for the rest of their lives. There is a beautiful short film about the teaching life of Corita Kent that you can buy on DVD (lol) from the Corita Art Center Webstore.
More from Sam's journal
Back in 2015, a lot was changing for me (Sam) on a personal level. I was rooming with my best friend Nicole Patrick and she had a copy of the exact same document I scanned and gave to you. I don't remember why, but she gave them to me. The moment I read them, I felt like something changed. They made sense for me as a transitioning artist and closeted queer person in a way nothing else has. I read them everyday, I started to memorize them, I meditated on them. I tried my best to let go of everything, and follow them as best as I could. I still do.
Its hard to describe, but the moment I read these rules I knew I'd need them forever. They are literal and metaphorical, spiritual and intellectual. They can be applied in a moment or you when zooming out for the big picture. Its a philosophy and ideology, the duality that I've clung to, that you are always a student and a teacher. You cannot be a teacher without being a student, and any earnest student is teaching without even trying to. It's innate. This has actually reinforced why I have the Padawan Braid. It's a metaphor to never let go of this duality. Forever a student, and always a teacher. The question I ask myself regularly is: What kind of student and teacher do I want to be today?
espy's foundational theology
The Rules have always been at the center of our (Sam + Peter) relationship. This has transcended throughout all of our school work, art work and creative collaborations. We use these rules to suspend our egos, and to focus ourselves on something bigger than us. They're not so much moral doctrine as guides for clearer being. Who are you in relation to others? What are you doing or contributing to your systems?
There's something we're looking for here. It's not so much these rules or the questions we ask ourselves. It's in the effect (you don't see the wind). When you put your intention towards "Find a place you trust, and then, try trusting it for awhile", something happens. We don't know what it is, but it's a transcendence that we're pointed at, searching for, looking into. All we're able to say is that it's a glimpse! It's the foundational theology for espy - the word espy means "to catch a glimpse".
We've hesitated a bit to bring this to the forefront of espy - coffee companies don't often write blog posts about Cage. But if anyone gets it, you all do - subscribers and readers, many of you longtime friends. We appreciate you!
espy is built on the idea that if you create a sustainable and viable business, one that is rooted in a local community and is focused on detaching it's money and time from labor and commodity markets, one that really is designed to be as effective and efficient as possible, then you can use that to change the world. That's what we hope, anyway. Thanks for signing on :)
Follow The Rules.
<3
Sam + Peter